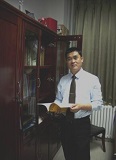 Prof. Yong Shang
China University of Petroleum (UPC), China
Biography
Professor at China University of Petroleum (East China), Master's Supervisor, Head of Sports Discipline, Director of the Professors Committee, Director of the Education and Science Committee of the World Leisure Sports Association, and Standing Committee Member of the Track and Field Branch of the China University Sports Association, Science Publishing Group "International Journal of Sports Science and Physical Education", "Progress in Sports Science" Editorial committee member and reviewer, expert in communication appraisal of national social science fund projects, expert in annual communication evaluation of national social science fund projects, expert in online evaluation of doctoral subject point special research fund projects in higher education institutions, and expert in serving the economic and social development of Shandong region; In recent years, I have presided over and completed more than 10 projects including the National Social Science Fund, the Provincial Social Science Fund, the Provincial Undergraduate Teaching Reform Project, and the Graduate Teaching Reform Project. I have won 2 first prizes for excellent teaching achievements, and have been the deputy editor in chief and co editor of four national planning textbooks, including "Introduction to Leisure Sports". I have published one monograph on "Research on the Integrated Development Model of Urban and Rural Public Sports Services under the Background of New Urbanization", and have published over 50 papers publicly.
Title of Keynote Speech
Theme: Construction of University Physical Education Curriculum System
Abstract
The reform of college physical education integrated with life safety education is the focus of education and teaching reform in the new era. In order to adapt to the new task and new situation of sports reform and development in the new era, the life safety issues of great concern in college physical education are studied. By using the method of literature and logical analysis, this paper discusses the importance and feasibility of integrating life safety education into college physical education, the practical problems and causes in the process of integration, and puts forward the path choice of college physical education from the perspective of "life" in the new era. The study found that it is feasible to realize integration because the purpose, content and function of life safety education and college physical education are the same. However, the school life safety atmosphere has not yet been formed. The school subject's understanding of life safety lags behind, and the teaching content system needs to be improved urgently.So it is inevitable that there will be many problems. Therefore, it is an effective way for life safety education in the new era to integrate life safety education into college physical education by making use of PE curriculum thinking and politics, exploring PE teaching contents and methods, combining natural disasters and accidents, and adhering to the PE teaching method of combining theory with practice.